OUR HEALTH MISSION
Board-certified medical doctor since 1998, Dr. Creighton and her experienced team of medical professionals put your health first. We are proud to provide a high-quality level of customer service to all our patients, with over 30 years of medical experience in health and wellness. CHC Medical Weight Loss and Spa will strive to help you achieve the body you desire, as quickly and as safe as possible, while not breaking the bank. Dr. Creighton and her experienced team of medical professionals at CHC Medical Weight Loss and Spa have been in practice in the Tampa Bay Area since 1997. Among our patients, we have been deemed a caring, effective, and affordable weight loss and medical spa, widely known for our "Lose the Muffin Top" weight loss program. We look forward to helping you start your new journey of looking and feeling your best.
EXPERIENCE AND PROFESSIONALISM
With years of experience, our physicians, medical doctors, APRN's, PA's, RN's, and licensed board-certified team of medical experts will assess you and create a custom plan that's right for you. We understand the importance of educating you on the most effective ways to take care of your body, so that you can heal quickly.
PHYSICIANS WHO CARE
Not only will our medical providers treat your existing conditions, we will also work to maximize your prevention strategies. We strive to help you improve your quality of life, achieve your wellness goals, and support your best possible life.
Clara S. Creighton, M.D., B.C.E.M.
B.S. Chemistry, College of Charleston (Magna Cum Laude)
Doctorate in Medicine. University of South Carolina
Aerospace Medicine Fellowship, United States AeroSpace Medical Institute
Dr. Creighton was an emergency room physician for 18 years before opening Creighton Health Care and CHC Medical Weight Loss and Spa, where she has been the CEO and practicing physician since 1997.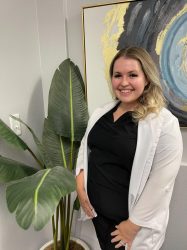 Amanda Foresteire, PA-C
Providing compassionate and efficient care is my true passion.  In 2015, I graduated from the University of South Florida with a Bachelor of Science (B.S.) in Biomedical Sciences.  I obtained my Masters Degree in Physician Assistant studies from South University in Tampa, Florida. 
I am a board certified physician assistant trained and practicing in emergency medicine, Bio-Te hormone pellet injections, and serving Tampa Bay's auto collision injuries.
As a native of Florida, I am a Disney fanatic!  I especially love Epcot's amazing yearly food festivals.  I love spending time with my daughter Tatum, my husband Nickolas, and our 2 cats.